Price

RM4.90 - RM5.90

Brand
Bzu Bzu
Availability
In Stock

Variation

Quantity
Description
In BZU BZU, your safety is our top priority. Which is why we want to create safe and effective products for you and your family well-being.

All BZU BZU products are Formulated in Japan. Contain 0% harmful chemicals, artificial toxins and irritants, such as Paraben, Alcohol, Silicone, DEA, MEA, TEA and Formaldehyde. Each products are Clinically, and Dermatologist
Tested to ensure we create the best product for your entire family. Support your child through every step of their growth. From newborn to adulthood.

FOR KIDS 3+ YEARS OLD
Manual toothbrush with slim tip ultra soft bristles that gently clean teeth & gum


- Small head for easy access to child's mouth. It helps clean each tooth thoroughly
- Designed for better control and makes brushing more effortless
- Kids Toothbrush (Pink & Blue)
- Introducing Halal certified BZU BZU Oral Care range for Kids!
- Good oral health is important at all stages of life especially during the early years of a childs life.
- The BZU BZU Kids Toothbrush is made with ultra soft and flexible bristle that works great at cleaning teeth and gum. While the BZU BZU Toothpaste has added Vitamin C & E for gum protection.
- BZU BZU oral care range is suitable for 3 years and above.


Dentist recommends:
- Brush teeth twice a day
- Replace toothbrush every 3 months
- Use together with BZU BZU Kids Toothpaste to maintain oral health

Storage Conditions:
Store in cool, dry place away from direct sunlight.

Caution:
Adult supervision required for children under 4.
DO NOT BITE OR CHEW. For tooth brushing only, do not use as a toy.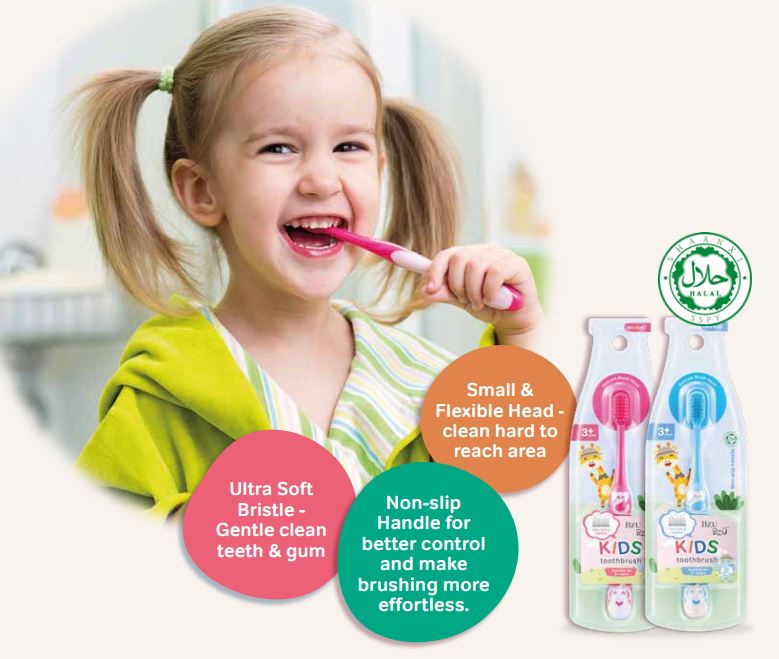 Kids Toothpaste (Orange/Grape/Strawberry)
- 600PPM Fluoride
Safe and effective in anti-cavity

- Contains Food Grade Ingredients
Safer and healthier choice for children

- Sugar Free
Fun and loving fruity taste for all kids

- Vitamin C and E
Helps prevent gums & teeth diseases from early childhood

- Rounded Edge
Keeps child safe from sharp edge injury

Directions:
Brush with BZU BZU Kids Toothbrush twice a day.
Do not swallow. Rinse and spit out after use.
Children of 6 years old & below: Use a pea sized amount for supervised brushing to minimize swallowing

Storage Conditions:
Store in cool and dry area, away from heat or direct sunlight.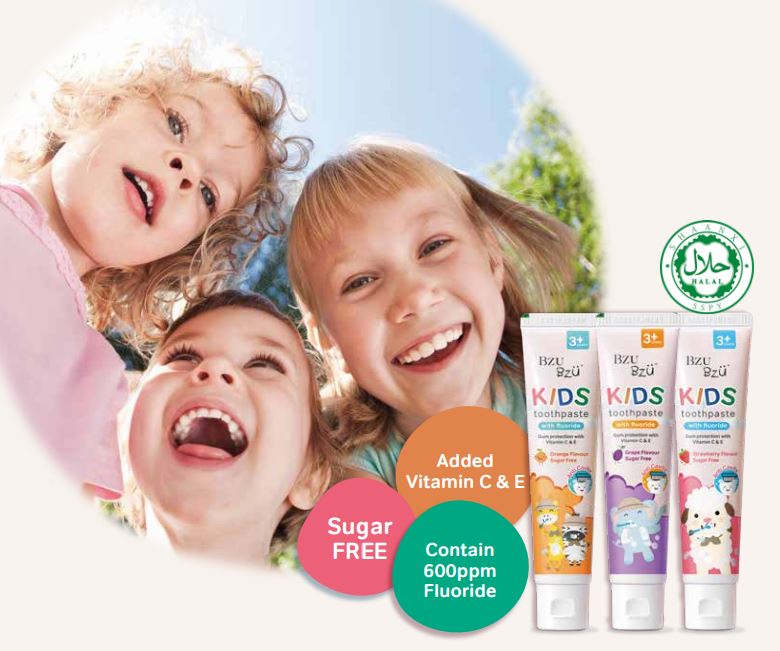 Reviews (0)
view all
back